My way of tatting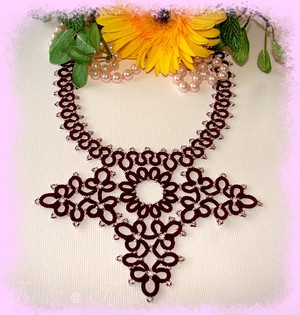 Over time I learned several techniques of making tatters. For its other activities, I selected one of several options which really fits me. I keep thoroughly working both obverse and reverse and of course linking strings of yarn without using knots. With a lace-work in the contemporary concept I must like my product in the first place. But I have to say that sometimes happens that the original intention is not the same with the final result. The explanation is this. I'll start with the necklace, after several hours of work I change my mind and continue as a new idea - the collar. In a few days, when the product is ready, the final result is  -  the blanket. In a short, I'm enjoying tatting with its firstly unforeseen adventures. When making tatter lace, you must be very careful, because if an error occurs, ripping is very difficult. Sometimes it is necessary to cut the wrong part and it is often several hours of work lost. In such case it is not necessary to loose patience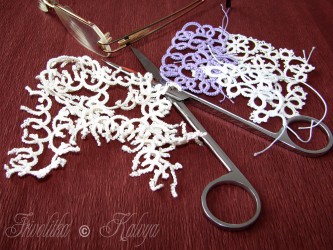 . Such moments are annoying but not tragic. You only need to equip yourself witha dose of patience, not only to grasp tatting into your hands, but, above all, have a tatting in the heart and the results will come alone. When I sit down with tatting, very warm feeling comes to my body with indescribable relief. I wish the same to everyone who absorbs tatting, like me. Recently, insertion of beads into tatting gained popularity. It's beautiful work and I enjoy it myself. My models come mainly from combination of classical (textbook) designs, my imagery and mood. All, with a few exceptions, are original and there are applied copyrights to some. They are worth of viewing and I hope that decency will not allow anyone to exploit it. I hope that you will visit my site and it will be pleasant experience and will contribute at least small role, that you will start to like this lace more.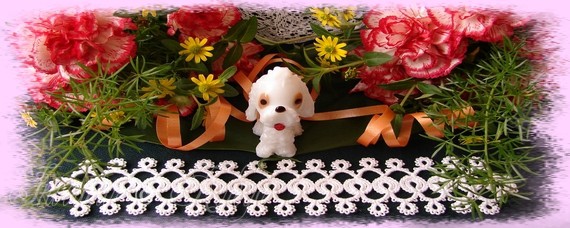 We explicitly forbid use of any part of this website, reproduction, copying and any use of content of this website.
All content is copyrighted and property of Alena Vyčichlová.